Assalamualaikum & Hi readers
❤️️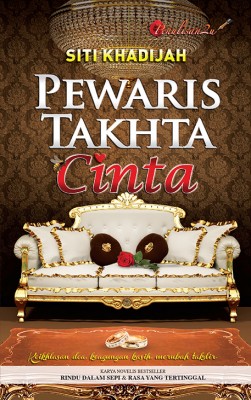 Source: Google
DETAILS
PAGE: 638 PAGES
YEAR: 2014
PUBLISHER: PENULISAN2U
Source: Goodreads
02:
Storyline ala ala macam novel Siti Rosmizah. Konflik mengenai perbezaan darjat dan pangkat. Syed wajib kahwin dengan Syarifah. Alahai. Disebabkan wasiat jugak, Ary & Waffiya terpaksa kahwin. Menyirap gila bila ada part sepak terajang dalam novel ni. Heroin baik gila weh. Reda je kena belasah dengan mak mertua dgn suami dia. Kalau sis, sis lari jauh dah. Tacing and makan hati kot kena bantai. Haha padahal tak buat salah apa pun.

KARAKTER:
Ary (hero) sebenarnya is nice person. Tapi buta mata & hati sebab taktahu nak faham perasaan sendiri. Bukan berdosa pun sayang dekat bini sendiri eventho 'kahwin paksa'. Ego. Setiap kali nampak Wafiyya (heroin) dengan laki lain tahu pulak sakit hati? Haih. And Waffiya pulak 'typical' malay innocent lady character. Baik, lemah lembut dan kental gila nak mati. At the same time, rasa macam eh Waffiya please jangan baik sangat eh. Org buat kau mcm mcm okay. Kau kena berani untuk protect diri kau sendiri dari ditindas oleh orang yang hati busuk.
Tiba-tiba rasa macam di pertengahan cerita, Waffiya patut dengan Amil je. Nasib baik, Ary berubah dari bad to good person. So, ika berubah fikiran haha.
At the end of the day, kita akan nampak banyak perubahan dekat diri Ary. Dia sendiri yang ubah. Individu tu sendiri akan berubah dengan sendirinya bila dia rasa perlu, kalau kita as a partner cuba nak ubah diri partner kita tu. Maybe partner kita akan jadi terpaksa ubah. Get it? So, apa yang ika nak cakap is, Ary ni berubah sebab dia rasa dia ni serba serbi tak kena sedangkan Waffiya lain sangat dgn diri dia. Well done Ary.
Overall, masih boleh baca gais. This is just my personal opinion. Don't get me wrong. Taste kita semua kan lain lain. Kalau rasa nak beli dan baca, silakan.
RATE: ⭐️⭐️⭐️