MOVIE REVIEW - RATSASAN 2018
Assalamualaikum & Hi readers
❤️️
Movie review untuk tahun 2019 kalini, ika nak review satu cerita tamil. Ika baru je lepas layan Tamil Movie bertajuk Ratsasan dekat youtube. New update, tapi ika perasan yang account movie yang ika tengok cerita ni dah tak ada. Taktahu la sama ada dah delete atau macam mana. Oh ya, ika terjumpa satu post dkat fb pasal cerita ni. Katanya, ini movie paling best abad ini. Haha maka ika tak ragu ragu untuk tengok cerita ni harini.
Ratsasan in english means Demon. (Raksasa)
Genre: Thriller/ Drama/ Crime
Year: 2018
Director: Ramkumar
Duration: 2h, 50 min
Short Synopsis: A rookie cop attemps to track down a serial killer who is murdering young school girls.
Source: Google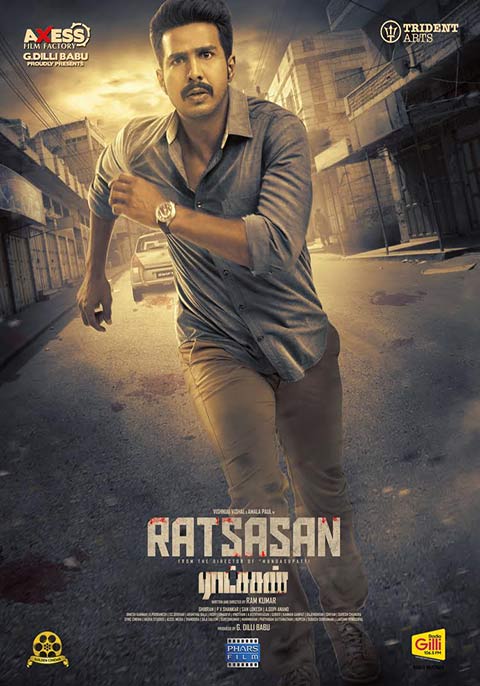 MY SHORT REVIEW
Honestly, dari start cerita sampai habis. Ika fokus gila tengok. Sebab jalan cerita Ratsasan ni menarik. Permulaan cerita, kita akan nampak watak utama (Arun) struggle sangat nak bagi skrip cerita dia yang bergenre psiko. Bila tengok dia punya kegigihan mengumpul material - bahan bahan untuk skrip dia. Macam wow. Penuh dinding dengan article surat khabar. Malangnya, banyak producer yang tolak skrip dia sampaikan dia terpaksa kerja as a polis atas bantuan abg ipar dia.
Dalam masa yang sama, kes pembunuhan kejam budak sekolah dalam lingkungan umur 15 tahun pun terjadi. Kira kita mcm tak boleh nak hilang fokus, sebab cerita dia mcm keep on go go go and go. Nak dijadikan cerita, masa Arun start jadi polis. Dia mcm dapat clue pasal jenayah dan misteri pembunuhan bdk bdk ni. Sbb before this kan dia banyak buat research pasal psiko.
Agak menakutkan cara pembunuhan budak budak ni. Kita pulak tak boleh imagine mcm mana derita dan seksanya budak tu semua. Nampak sangat kejam dan tak perikmanusian. Damn you!
At the same time, ika salute dekat pembunuh. Pembunuh memang pandai plan strategi. Susah gila weh nak cari pembunuh. Tak ada bukti kot. If ada pun, merujuk ke org lain haha. sebab tu, ika awal awal lagi surrender utk teka siapa pembunuh.
Source: Google


Sebagai penonton, ika sendiri tak boleh nak predict siapa yang bunuh. Sebab tak banyak sgt yg boleh kita fikirkan siapa pembunuhnya. Kira mcm zero la nak main tuduh tuduh.Taktahu nak komen apa lagi. Ika rasa siapa yang suka tengok cerita psiko mcm ni, akan suka.
Nasib baik ada Arun, so that dia gigih mencari pembunuh tu. Pembunuh akan tinggalkan kotak dekat setiap bdk yang dia bunuh. Scary jugak tengok patung yang dalam kotak tu. Kena toreh bagai haih. Taknak cakap banyak. Please tengok okay? Haha.
RATE: ⭐️⭐️⭐️⭐️

UPDATE: Ika check balik movie yang ika tengok dekat youtube. Tapi dah hilang yang full movie. Nanti ika carikan yang ada subtitle and update :)